Six a.m.
Around 2,500 students, many of which went without sleep the night before, drudge into Anschutz Sports Pavilion one by one. Just about everyone is tired, hungry, annoyed and ready to go back to bed.
As students file into the line, the KU Camping Leadership — a group of students in charge of camping and the lottery process — unsuccessfully attempt to give out instructions over a megaphone. However, as the students continue to stand around and let the instructions float by as background noise, one member of the Leadership group yells into his megaphone to quiet the building.
"Shut the [expletive] up."
At Kansas, lottery is something that takes place following each home game. The students have to be in the building — usually Allen Fieldhouse — by 6 a.m. if it's a weekday and 8 a.m. if it's a weekend. However, due to scheduling conflicts, the lottery for the Kentucky game was moved to 6 a.m. Sunday at the Anschutz Sports Pavilion, where President Barack Obama actually spoke one year and two days earlier.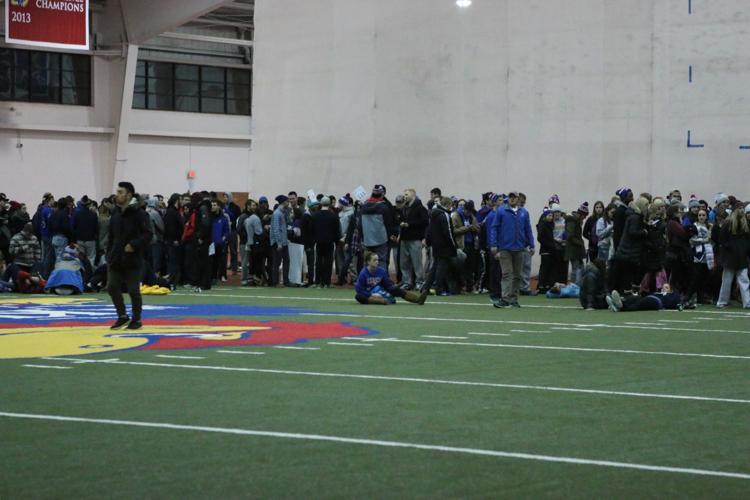 According to the Leadership group, Sunday's lottery was the biggest crowd drawn since the Missouri game. The 117 individual groups that showed up at lottery was also one of the largest marks in recent memory. As of Wednesday night, that list had increased to over 140 groups.
Students are taking the game against Kentucky more seriously than some of the past games this season, and really, there's a different buzz with this game than those in the past.
"We got in; We were group number 115 [to pull a number]," said Hayden Balduf, a freshman from Illinois. "This was my first lottery. My group had done it before, but I joined them for this one. I actually didn't sleep the night before."
For Balduf, spending his first all-nighter of college in a packed building led to simply a place on the camping list, but for others, the draw was far more favorable.
Cassidy Dixon, a junior from Wichita, is a member of the camping group "Cheick The Weather There's a 100% Chance of Wayne." After pulling the No. 1 chip at lottery, her group was vaulted to the front of the line, assuming none of the members of her group miss their camping shifts throughout the week.
She said she's excited for the game and thinks it will definitely provide the biggest atmosphere in a while, as well as the most riled-up Kansas crowd.
"The atmosphere in Allen Fieldhouse is going to be insane," Dixon said. "The SEC/Big 12 challenge is a big thing; GameDay is coming, and that'll be exciting too."
Dixon said there was a difference in how much fans generally felt in regards to Kentucky, as compared to other opponents, using another group's name that called Kentucky coach John Calipari an obscenity as evidence. She added one of the suggestions for her group name was "John Calipari sucks" but said they opted to go in a different direction.
For the students, camping isn't something to be taken lightly. Many of the groups have rules that force students to be at the 6 a.m. or 8 a.m. lotteries to attend the game, while others have similar policies about missing a camping shift.
Zoë Theobald, a freshman from Iowa, said her group is "extremely" strict with how it enforces rules. She said the group previously kicked off one member for missing shifts, adding the rules of the group are clearly outlined and that it's not acceptable to break them.
"You can't just not show up for your shift," Theobald said. "Then there's some people that don't take shifts, and [they] expect to get into the game […] They don't get to do that."
Theobald said she noticed new groups and people while she was camping. She acknowledged the bigger crowd but said the number of students camping also disappointed her in some ways.
"I thought there'd be more people here," Theobald said.
It seems as though this game has been hyped up to be a historic clash in a way it can't possibly live up to. And while it might have been even bigger in year's past, this year the game doesn't have its entire luster.
Both Kansas and Kentucky have already lost four games this season, while Kentucky is clinging to its top-20 status after a 6-2 start in SEC play.
However, some of the hype is valid. And it's not just coming from inside the University.
Carrington Harrison, who co-hosts The Drive on 610 Sports Radio in Kansas City, said what makes the game special is that Kentucky and Kansas are two of the three clear, "tier-one" programs in the NCAA — along with Duke.
He said the home-game element only adds to the game and went as far as to say it will be a bigger game than when Kansas faced then-sophomore guard Marcus Smart and Oklahoma State in Allen Fieldhouse one year after losing in the same venue.
"I think this is the biggest game at Allen Fieldhouse since Missouri last played there," Harrison said. "It's one of those once-in-a-decade kind of games because these kind of games don't happen. Kentucky doesn't go to Allen. Kansas doesn't go to Rupp Arena. They always play at neutral sites."
As Kansas prepares to take on Kentucky, there are several storylines that would be easy to latch on to.
Self and Calipari have met twice in a National Championship setting, as each walked away with one victory. There's the storyline of how the Wildcats throttled the Jayhawks last year at the Champions Classic, prompting the nation to ask if they might even be able to beat an NBA team.
But above all else, Kansas vs. Kentucky is about two of college basketball's elite programs squaring off in one of the most respected and celebrated venues in all of college basketball.
Come Saturday at 6 p.m., a new chapter of history will be written.
— Edited by Michael Portman