2015-16: Brennan Bechard repeats
The first time Kansas Athletics Director of Basketball Operations Brennan Bechard hit a half-court shot, coach Bill Self got to fulfill his promise. Self wrote a check for $10,000 over at the scorers' table on the court in Allen Fieldhouse to Jerrod Martin Castro, the student selected to participate.
The team mobbed Bechard on the court, celebrating a shot that had the Fieldhouse shaking like it was in the middle of a Big 12 showdown.
There's no way Bechard could do it again, right?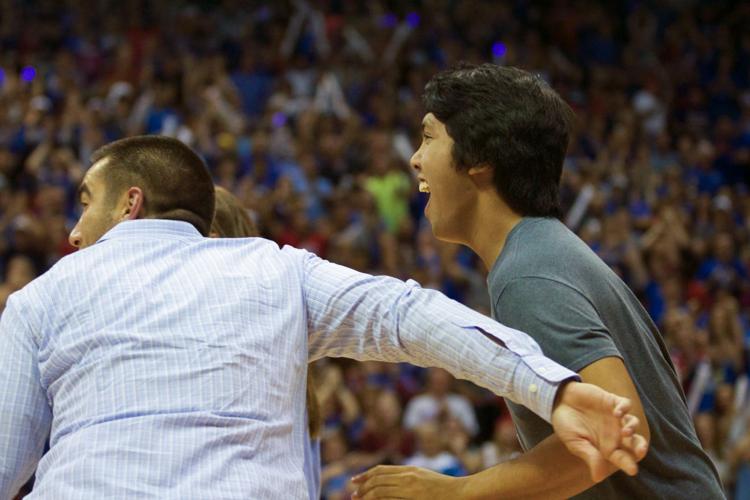 Well, 2016 saw a scene almost identical, this time with Jordan Stiers receiving a check from Self.
After missing the given practice shot, Bechard sunk the official half-court heave and gave Jayhawk fans a delightful deja vu. Bechard was again swarmed by the Jayhawk team.
In 2017, Bechard will have the chance to three-peat if he is selected to take the shot again.
2013: Rob Riggle makes an appearance
When you're perhaps the most famous Kansas graduate to walk through the Campanile who wasn't on the men's basketball team, it could be expected that you'd be carried onto the court of Allen Fieldhouse while sitting on a white throne.
That's exactly the treatment that 1992 Kansas graduate and former Daily Show and Saturday Night Live comedian Rob Riggle received when he made an appearance at the 2013 Late Night in the Phog.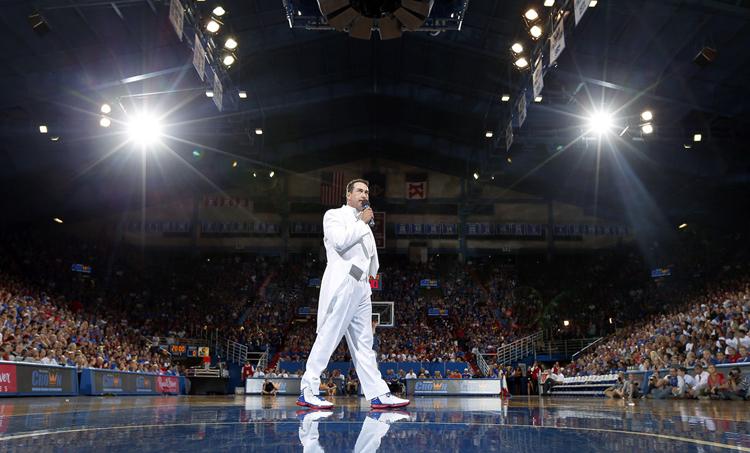 Donning a white tuxedo and a long gray wig, Riggle was suspended eight feet in the air by a group of Kansas cheerleaders, spinning around in his chair and raising his arms toward the screaming audience. 
"This is madness, baby," University alumnus Rob Riggle said that night after hosting the event, according to ESPN. "You have no idea how much I love Allen Fieldhouse. I used to sit up there and dream that one day I would be carried into Allen Fieldhouse in a white tuxedo on a white throne to 'Thunderstruck.'"
After cracking a couple of jokes about Kansas State and Missouri, Riggle got the crowd riled up before leading a "Rock Chalk, Jayhawk" chant. It was the start of the night that the Jayhawk fans needed, as they excitedly waited to watch the 2013 No. 1 recruit in the nation, small forward Andrew Wiggins.
2013: Andrew Wiggins makes debut for Kansas basketball
It should come as no surprise the hype and excitement that came with Andrew Wiggins' lone Late Night in the Phog.
The anticipation was high to see the top-ranked recruit's debut; around 25,000 people waited in line to try and enter the 16,300-seat Allen Fieldhouse in 2013.
Many fans were ultimately turned away, but Wiggins put on a show. Wiggins, dressed in a tuxedo, performed a dance with his teammates before playing in the annual red vs. blue scrimmage.
On a team that had teammates Joel Embiid and Perry Ellis, Wiggins led the blue team to a 66-40 victory. Wiggins scored 12 points on 6-of-8 shooting and performed various highlight dunks on the night.
2011: Self enters The Phog in style
A red carpet was laid out across the court in Allen Fieldhouse, and Jayhawk fans stood in the stands, waiting for something to happen. From under the bleachers and through the tunnel, an engine could be heard.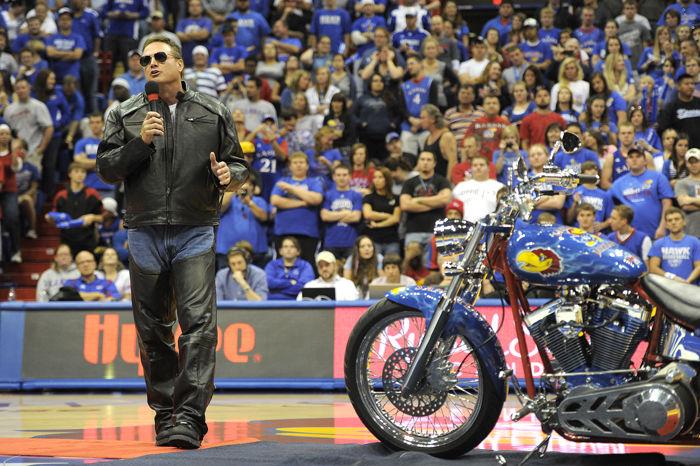 Fans near the tunnel gasped as they saw coach Bill Self entering the court. They got the first look, and the rest of the crowd soon saw Self riding in on a motorcycle. This wasn't just any motorcycle, it was custom made with crimson and blue colors and "KU" painted on the side.
Self looked as cool as ever, wearing a black leather jacket and aviator sunglasses. His stroll toward the microphone at mid-court was slow and methodical. As he grabbed the microphone from the stand, the crowd continued to roar.
Self spoke.
"What's going on, Jayhawk fans?"
2010: Bill Self comes out as Vanilla Ice, dons all-gold outfit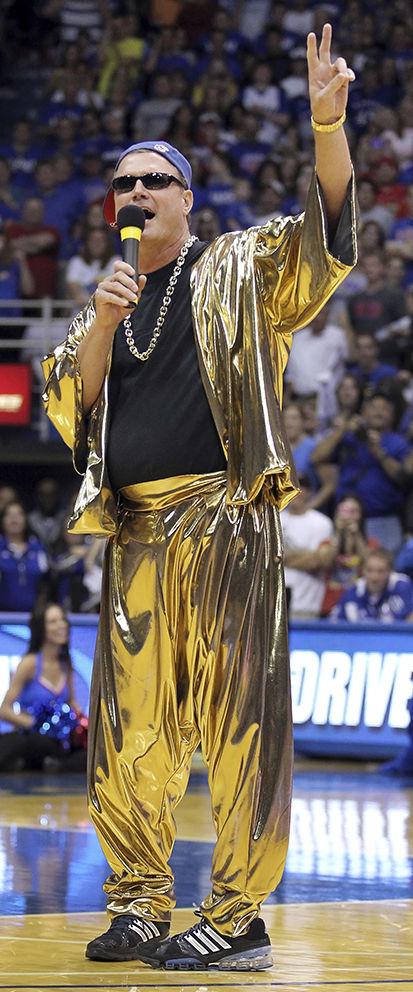 Coach Bill Self has had many memorable moments during Late Night in the Phog, but his all-gold outfit in 2010 will always be a standout one. Along with the all-gold track suit, Self donned a backwards Kansas hat, a gold chain and sunglasses.  
Self's appearance in the outfit drew the most laughs during that year's show, according to the Lawrence Journal-World.
Self's task was to portray Vanilla Ice and introduce Kansas' players that acted as members of the R&B group "New Edition" — Thomas Robinson, Elijah Johnson, the Morris twins — Marcus and Markieff — and Travis Releford.
"I think he's an actor. He was funny. He likes to impress the crowd," Marcus Morris said of Self, according to the Journal-World. "He did what he needed to do."
Markieff Morris echoed his brother's thoughts on his then-coach.
"He's too funny," Markieff said. "He said he was coming as Vanilla Ice. I didn't think he'd come out like that."