Coach Les Miles took the podium on Tuesday afternoon, just 11 days before Kansas football takes the field for the game against Indiana State.
In the final practices before next Saturday, Aug. 31, there's still uncertainty hovering around the first-year coach and the outlook. However, that didn't stop Miles from raving about certain areas where Kansas is excelling. He praised one group in particular — the offensive line.
"I think the offensive line has the potential... early in the season, to be one of the better offensive lines in the country," Miles said. "In the country may be a little strong, but they are very talented and I like them."
Returning the third rushing back in the Big 12 in sophomore Pooka Williams and the 18th rusher in senior Khalil Herbert, stabilizing the front seven could be a pivotal factor in the Jayhawks' offensive prowess.
By straying away from the Air-Raid playstyle that former coach David Beaty implemented to keep pace with the high flying teams in the conference, Miles could favor a rushing offense if the offensive line is Kansas' strength.
With the trio of running backs in Williams, Herbert, and junior Dom Williams, Miles plans to mix and match based on skill type.
"First of all, they're similar in skills but there's differences to them," Miles said. "You look at great speed, the ability to cut and maneuver, that's all three of them. I think those three guys are going to give us some pretty exciting moments."
Along with the offense, Miles vocalized how impressed he was with some freshmen on both sides of the ball. The first being linebacker Gavin Potter out of Broken Arrow, Oklahoma.
"(Potter) is going to play a lot of football, so get used to seeing him," Miles said. "He runs well. He'll hit you. He likes to play and he's got a smile on his face when he does hard things. That's kind of a key piece."
The other freshman Miles mentioned was 6-foot-5, 250 lb. tight end Mason Fairchild. He was originally a two-star recruit out of Andale.
"He's going to be something special, Miles said. "He can run, catch, and he blocks well. He's going to be somebody the Kansas faithful will enjoy."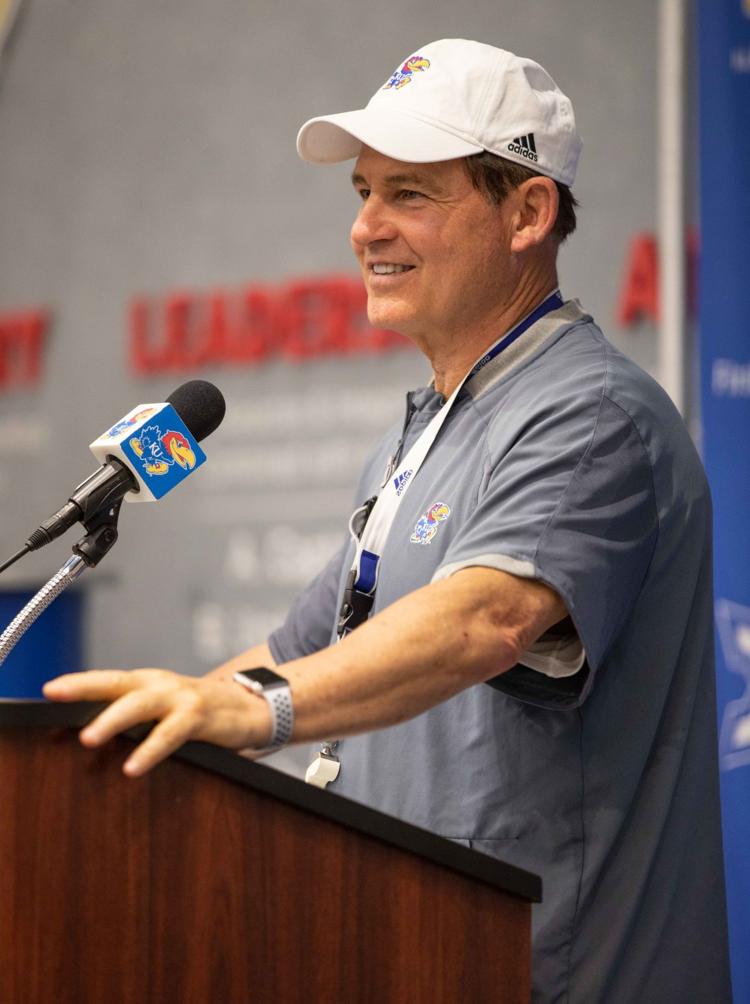 Looking ahead to the scouting report on Indiana State, this is a team that seemed to be more ground-oriented during the 2018 season. Rushing for 241.5 yards per game and 5.1 yards per carry, the Sycamores didn't spend much time airing it out. Scoring 30 touchdowns on the ground compared to just 12 via the air, Indiana State has the potential to be a difficult matchup for a Jayhawk defense that ranked eighth in the conference last year in rushing defense (171.8 yards allowed per game).
However, that was last year. This is a new season.
Building a stout defensive front is something Miles has made a staple point. After graduating Daniel Wise, J.J. Holmes, and KeyShaun Simmons, Kansas has turned to another majority senior bunch on the line. Defensive end Azur Kamara and defensive tackles Jelani Brown and Codey Cole III headline the group.
But Miles brought up another freshman that has been added to the mix, defensive tackle DaJon Terry. Listed at 6-foot-4, 350 lbs., the Mississippi native plans to receive plenty of snaps with the job of halting the run game.
"[Terry] is going to take centers in every league and give them headaches, Miles said. "I don't know who is as big as DaJon Terry."
Finishing their final contact practice on Tuesday, the next physical action the Jayhawks will endure will be on Aug. 31 for the home opener. Kickoff is set for 11 a.m.