While many University of Kansas students spent their winter breaks relaxing after a rigorous semester, the Kansas rowing team decided to utilize its free month and take a nine-day training trip to Tampa, Florida.
For the past six years, Kansas rowing coaches have taken their teams to Florida in order to further the rowers' development. Since joining the staff as an assistant in 2012, former Kansas rower and current coach Carrie Cook-Callen continues the annual nine-day camp.
"This trip allowed us to take the top 48 individuals on our roster, to kind of invest in them and establish our working groups as they'll work in the spring," Cook-Callen said.
While in Florida, the team were "students of the sport" as the training helped get their minds focused without outside distractions. They were able to use that time to bond with the rest of their teammates as well.
Cook-Callen specified that while in the fall the novice and varsity team usually practice separately, in the spring they are considered as one entity, thus allowing winter break to serve as middle ground where the team comes together.
"It's a wonderful time to bond; we're in the same space, we're eating all of our meals together," Cook-Callen said. "In a sense, it's kind of setting the tone of one team."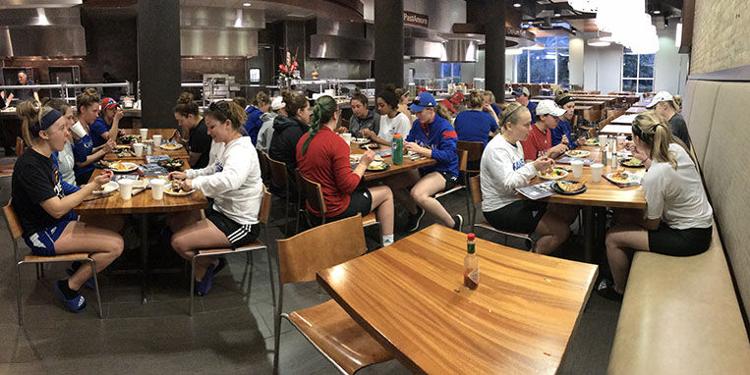 For sophomore Reese Arnold, an Academic All-Big 12 Rookie Team recipient, the trip to Florida acts as a time to take her ability to the next level.
"We raised the technique level, we raised the level of intensity, and we just really get after our workouts while we're down there," Arnold said. "Tampa was able to set the tone for the rest of our season and how it's going to go." 
As for redshirt junior Meghan Karoly, another Academic All-Big 12 recipient, the camp represents a time not only to build muscle, but to build relationships.
"We were so used to split practices in the fall, but then once you're blended together you learn much more about your teammates," Karoly said.
Having nine days of training in Florida helps the team elevate its game in and out of the water. In addition, its focus was also to advance the team's mentality moving forward.
"In a sense, kind of kicking off that it doesn't matter that if you're a varsity or a novice if you're going to help Kansas be fast, you're going to be able to move yourself up the ladder and into the higher boats," Cook-Callen said.
The Kansas rowing team kicks off its season with the Big 12 Double Dual in Kansas City, Kan., on April 7. The team will travel as far as New Jersey for the 2018 season before returning home to close out the regular season with the Sunflower Showdown against Kansas State on April 28.
— Edited by Hannah Strader