Debate
Kansas football coach Les Miles has not missed a bowl game (in a full season) since his first year as a coach. After the loss to Coastal Carolina, a bowl game appearance may look slightly out of reach this year.
Kansan sports columnists Kylie Hanna and Sam Lance debate whether or not Kansas football will find itself in a bowl game by 2022.
Yes | Kylie Hanna
In his first game with the Jayhawks, Miles led Kansas to a 24-17 victory over Indiana State, thus beginning the team's climb after finishing its 10th consecutive losing season last fall.
For 15 of the last 17 years with his prior teams, Miles coached his way to a bowl game, winning nine of those 17. There's no reason he couldn't do the same for the University.
It may take a year or two to recruit a few players to solidify the lineup, but with solid returners like sophomore running back Pooka Williams Jr., who rushed for 99 yards on 22 carries against Coastal Carolina, and sophomore cornerback Corione Harris, who contributed 44 tackles in the 2018 season, the team shows potential to appear at a bowl game again for the first time since the 2008 Insight Bowl against Minnesota.
There is no doubt that the Les Miles era will rebuild and redefine Kansas football. But with Miles' 143-56 record prior to Kansas, it is hard to say the team will not improve under his coaching.
According to 247Sports, Kansas already has 26 hard commits in the 2020 class, ranking them fourth in the Big 12. With the upcoming class and Miles' dedication toward recruitment, Kansas has just as many qualifications as any other team to make it to a bowl game within the next three years.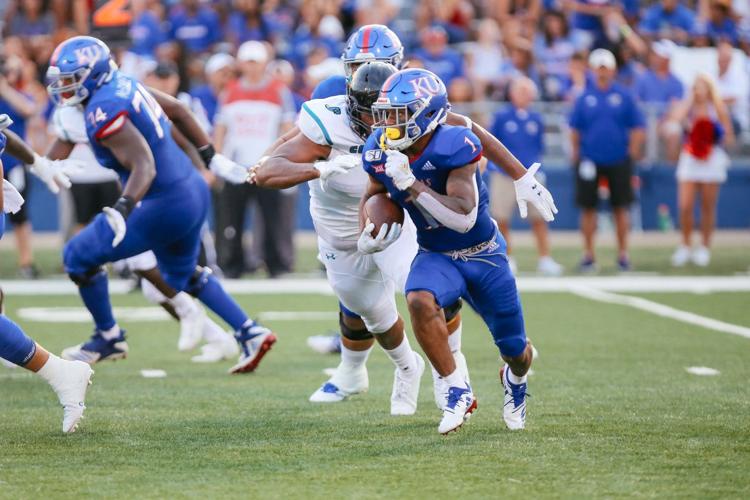 No | Sam Lance
With the new hiring of national-championship caliber coach Les Miles, who took LSU all the way in 2007, there is optimism surrounding the Kansas football program.
But as fans, we shouldn't expect the bus to be turned around right away, and Saturday's 12-7 loss to Coastal Carolina was a wakeup call, showing the program is still far from turning out six-win seasons.
"I told my team that we're all hurting, OK?" Miles told the Topeka Captial-Journal. "This is a team. All of us, everyone in that room has pain. We're going to have to get over it, and it's not going to be easy."
This gig is unlike any coaching job Miles has had before. At LSU he maintained an already top-notch program, but here at Kansas he has to rebuild a team that's only won six games in the last three seasons combined. It will take years for his recruiting to make an impact, and with the current talent level at his disposal, it's going to be a rebuilding process.
Additionally, the Big 12 usually has three to four teams in the AP Top 25 and is full of juggernaut, air-raid offenses. Kansas football will not only need to build a solid defense but be able to compete with other high-scoring teams in the conference, such as Oklahoma and Texas.
So even with Miles' tremendous talent to lead a program and recruit athletes, Kansas football is still years away from yielding successful seasons and making it to a bowl game.