The crowd was roaring and everybody, including his opponents, were cheering for him. Kansas track and field freshman pole vaulter Zach Bradford needed just one more jump to cement his name in Kansas history.
Lifting his his pole, Bradford ran toward the pit and cleared the pole. He had broken a Kansas program record in the pole vault.
Moments prior, Bradford had cleared the 5.77-meter mark but right as he got over the height, Bradford's body tapped the pole causing it to fall. He knew right then that he could make history.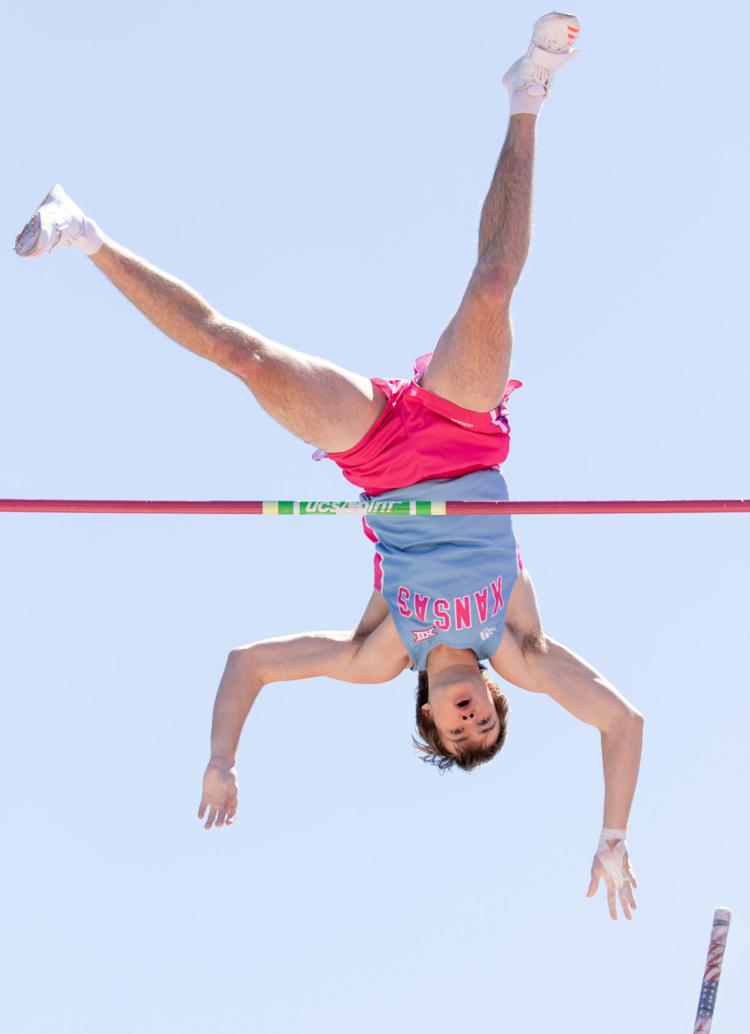 With the wind in his favor and the weather treating him well, Bradford lifted himself 5.77-meters into the air for a second time. With the crowd cheering at his side, Bradford fell onto the mat in relief, realizing he had just become the No. 1 pole vaulter in Kansas history.
"I didn't think I was going to make the (5-)77. That's a really high height for my freshman year," Bradford said. "And then it all just clicked, I could hear the crowd cheer. I just wanted to fall down. I couldn't believe it."
Braford entered the Relays coming off a third-place finish at the Battle of the Bayou. Bradford expected to have a successful day due to the weather, but little did he know he would have a record-setting performance.
"I felt it coming, practice, everything. Everything's starting to click," Bradford said.
At the beginning of day four of the relays, the Kansas pole vault record was 5.76 meters, set by Jeff Buckingham in 1983. By the end of the final day of the Kansas Relays however, Bradford broke the record and placed himself in the history books by vaulting to the fourth-best jump in the world.
Freshman pole vaulter Zach Bradford just broke a 36-year KU record by clearing 5.77 meters. That's the fourth best mark in the world. pic.twitter.com/HSFbAKfGYo

— Logan Fricks (@LoganFricks) April 20, 2019
The freshman has eyed the school record ever since he committed to Kansas, but he did not realize it wouldn't even take a full year before he broke the record.
"I was like, 'I got four more years to break that record,' I didn't think it was going to come in the first year," Bradford said.
Bradford's mark sets him amongst the top in the world and to him, it's "amazing" that he has that high of a mark being only a freshman.
The roar of the crowd motivated Bradford to do even better, not wanting to disappoint any Jayhawk fans.
"Having the crowd here and showing them something I can do really helps," Bradford said. 
Kansas has become known as a strong pole-vaulting school and Bradford has listened to the advice of his peers.
"They said just keep your head high, don't get discouraged by these high heights," Bradford said. "Having these older athletes and alumni's coming back and training with us has really helped."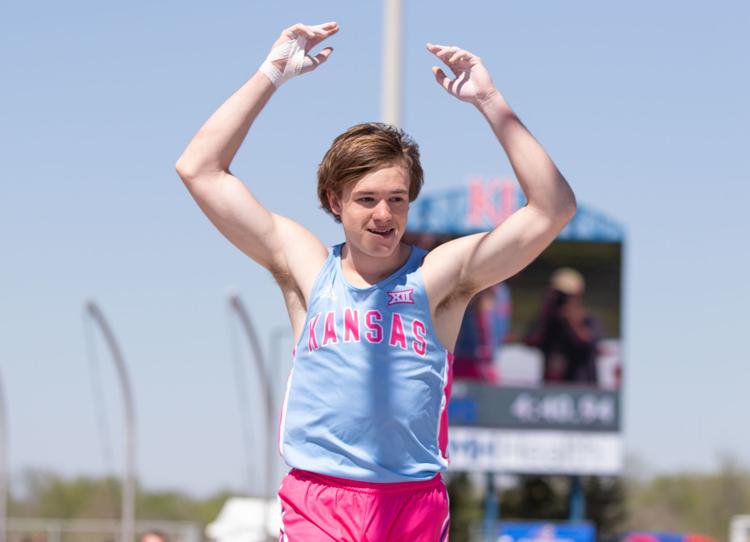 Bradford entered the meet with a personal-record of 5.63 meters. He was challenged with a 5.65-meter jump, but managed to clear it with ease.
He followed up his leap by clearing 5.71 meters on his second attempt and had confidence to reach the 5.77 mark.
Despite the school record, Bradford knows that being a freshman, he has to continue adapting his training and find new ways to get better.
"Now it's just raising my grip on these poles, getting on higher grips and having the higher grip and bigger poles will get me even higher," Bradford said. "I still have higher heights to go, coach [Tom Hays] and I both know that. We've got a lot of training to do."
Now with the Kansas Relays behind him, Bradford will eye the No. 1 mark in the world. Seeing how great he can be, his goal is set on the highest pole-vault mark in the world.
"I'm ready for higher heights," Bradford said.